Crowd funding websites and the businesses behind them attempt to remove the middlemen and directly join developer and small scale equity investor.
Crowd funding in real estate development is really advancing. This disruptive innovation has significant implications for developers, financiers and real estate agents including investment marketers and proportional ownership schemes.
One person who has $1,000 to invest is unlikely to find an able and willing real estate developer to take that money, smoothly manage the process and provide an acceptable investment framework to (eventually and hopefully) pay a return on that equity. However, a crowd of small scale investors can create a substantial equity contribution and enough capital to warrant a managed investment environment to get projects off the ground.
The risks and ramifications to the investor are high and it would appear to open up a legal minefield – especially as crowd funding crosses national borders. Disclosures (or lack of) and securities legislation immediately  come to mind.
For the developer what is the true cost of this equity and can you sell your projects success (before you sell your projects products!), potentially to small scale investors around the world?
Perhaps you want to raise money to develop villas in Argentina (a tough sell) or a pre-leased childcare renovation project in New Jersey (oversubscribed!)?
Now, there is no need to go a mezzanine lender or find a wealthy silent partner.
You can simply ask the 'crowd'!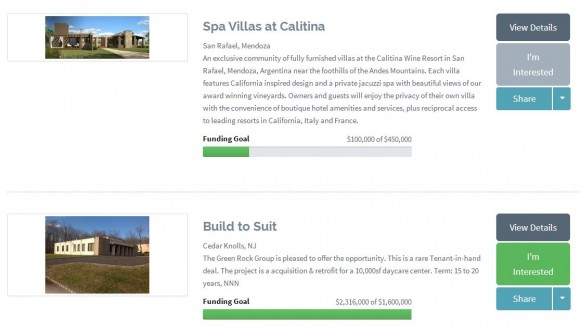 Source: http://groundbreaker.co/deals

As we continue to explore crowd funding in real estate here are  some articles of interest:
http://www.miamiherald.com/2014/07/06/4221997/developers-turn-to-crowdfunding.html
http://www.entrepreneur.com/article/232717
http://online.wsj.com/articles/real-estate-sector-moves-crowdfunding-beyond-the-trinkets-1402526777
http://www.forbes.com/sites/groupthink/2014/06/10/real-estate-crowdfunding-post-valuations-of-100m-for-series-a/
Here are some of the crowd funding players:
https://www.tycoonre.com/for-dealmakers/
https://www.ifunding.co/asia/how-it-works-partners.php
https://fundrise.com/investing-with-fundrise
https://www.propellr.com/how-it-works
Andrew Crosby
andrew.crosby@aenspire.com
www.aenspire.com