Another one done.
Click here to get a copy https://www.amazon.com/dp/1790590884? or contact publishing@aenspire.com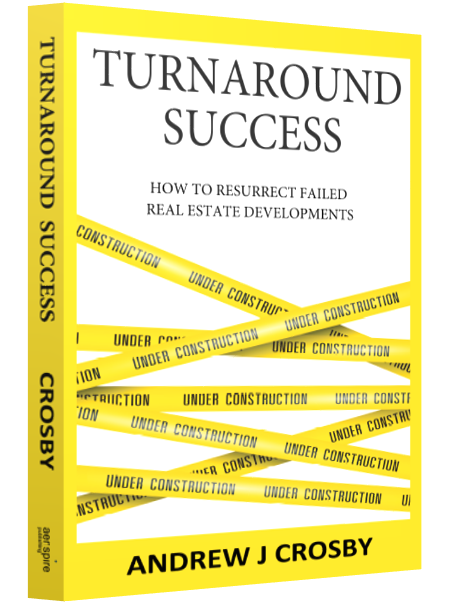 Real estate development is a risky business. When everything is going well the project can be incredibly profitable. But throw in delays, softening sales and rising construction costs and the profit can be completely wiped out.
That's when you need the tools to perform a resurrection.
This book provides practical advice to turn around failing real estate development projects. Tap into two decades of residential and commercial development experience in challenging markets. This is where both the novice and seasoned will learn insider secrets of the developer's trade.
Can you take on a project where others have failed, and reconfigure, de-risk, re-brand and manage it to profitable success?
"After successfully developing high end homes throughout the eastern suburbs and a subdivision estate down in the capital, with our tails up, we saw the development opportunity of a lifetime. But we didn't see the risk, and this site, it turned out, had every risk imaginable. Now we are working with the author and his contacts to find a profitable way through. This book is essential reading for real estate developers, both aspiring and experienced, and those who do business with them. Learning lessons from this author, is a lot less financially painful, than making the same mistakes yourself!" 
Raj Jeram – CEO, Parkside Living Limited
I build upon my book 'House, Land, Love & Money' with complementary and valuable new material for developers – a must read for any consultant, financier, contractor, agent and manager in the real estate development industry.
Cheers
Andrew Crosby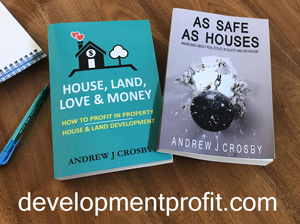 Real estate development books now available via Amazon or direct from publisher in New Zealand. Contact publishing@aenspire.com for special rates. Go to www.developmentprofit.com to view publications available.