Reprinted today because I see more new houses going up in this suburb much deserving of a transformation. 
Below is a little story I put together, in 2013, in desperation, to try and get approval for a kick start renewal project. I remember back then my first visit to this struggling community. To set the scene of just how neglected "The Nui" was, read this: http://shorthand.radionz.co.nz/maraenui/index.html 
I don't know if my attempt to set a vision made a difference, but back then the first project in Maraenui in a long long time, did eventually get approved. It's good to see that development is now continuing and that further progress has been made.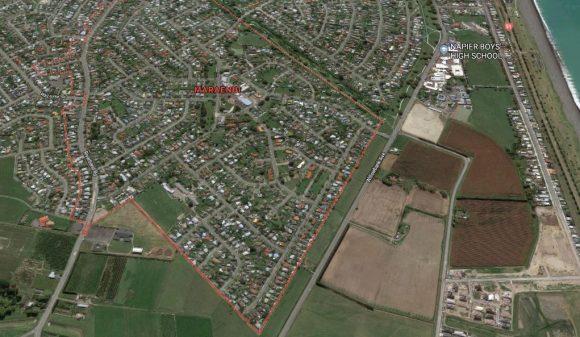 ---
Nikau Johnson closes the front door to his 3 year old 2 bedroom terrace home at 27 Bledisloe Road. After a great night's sleep in a warm sustainably built home, he relishes the fact the heating bill is so low given the solar principles applied and the Maraenui community organised electricity co-operative started in 2017. Plus he also likes the fact he and his partners are living in a reasonably safe part of Napier, a bit different to what he can remember growing up down the road.
Nikau walks down the red brick paved footpath, crosses the bike lane, and picks up the pace as jogs across the road – careful to avoid one of the regular electric buses on the Napier to Hastings route. As he approaches the entrance to the recently expanded Westfield Maraenui Shopping and Community Plaza, he notices a teenager walking in the park adjacent. "Hey Scotty, you are going to be late for school, pretty sure you don't want a miss a day given how close exams are do you?"  Nikau asked.
Scotty turned around and replied "No probs boss, I am taking some photos of that artwork done by my father 10 years ago that we fixed up, – it was our art class renovation project and I need to put together a portfolio to get into uni."
Nikau carried on through the sliding doors and rather than turning left into the shopping precinct – which was already bustling with the sound of shop keepers putting their wears out front he turned right into the community precinct.
Napier City had set up in Maraenui their international virtual business and co-learning centre with the sister city of Lianyungang, China  in 2019 and added Tomakomai, Japan and Victoria Canada in 2020. This initiative provided a continuation of the Maraenui student exchange and young business entrepreneur program sponsored by Fonterra that started in 2018 and continues to run.
Nikau thought to himself 'here's something that now contributes $12m to the Maraenui economy. Just seems like yesterday my fathers friends were getting in trouble with the police and all that gang stuff and here's one of them on the webphone talking to some Chinese suit!'
Past the community precinct's centre for sports excellence office and right alongside the entrance to the elevator Nikau spots a sign on the back door of the Barfoots Maraenui office. The table on the sign reads:
 
Average
house price
Last 10 years
average annual
capital growth
Sales this month
Marewa
$323,000
2.5%
17
Maraenui
$318,000
9%
22
Nikau feels good about his home investment off the plans 4 years ago. Whilst his friends who live in Hastings said, 'yeah Maeranui seems on the way up…..lots of young families taking advantage of the Welcome Home Loan + Renovation package, buying ex state houses and doing them up' – his uncle living locally on Shackelton street did have reservations – 'yes a lot has changed over the last few years but I don't know if it will continue, seems like the place is already getting too busy man'.
Nikau jumps in the elevator and moves his finger to the 3rd  level button that reads 'Housing Napier', 'HNZC'  and 'Whare Maraenui Inc'.
He notes the 2nd level has a new tenant. 'Spanner and Fixit Ltd' had relocated a number of times in Maeranui – first from the vacant office they took over in the old retail center in 2015, then from their temporary office, a renovated home on Geddis Ave and now into plush new premises on  in the heart of the expanded mall.
Nikau knew this maintenance company well. As a teenager, he got his first real break with them…..
Life in 2013 seemed to not offer much. Struggling to stay in school, let alone get passing grades he often skipped class. He would walk down Shackelton Rd past the Housing New Zealand properties and past the private home that seemed to be owned by someone out of town because it was falling down and always had the cops outside. Then he and his mates would break into the two story houses that the government were about to tear down and smash whatever was left to break. Even that got boring, a few times early on the police would drive by but they didn't seem too interested in a couple of kids, just par for the course for them, kids in Maraenui out of school.
One day, late 2013 things started to change.
Not that Nikau took much notice but everyone was talking about all these meetings and the stuff that the government and council was going to do. Nikau's dad initially didn't like them, "we had all these meetings ages ago, nothing happened, all piss and roar and nothing happened".
Nikau remembered there were lots of flash cars coming into town, even once a silver beemer and the guy in that car stayed for a barbeque. Was funny though some of his fathers out of town mates started yelling at him, but he just kept on smiling.
Nikau did take notice when a lot of signs started to go up around town. It seemed like there were blue signs popping up everywhere. There were signs on Longfellow with a picture of some flash new houses. There was signs on Bledisloe next to the houses the government were going to pull down 'Watch this space' and another 'Home of BMX Hawkes Bay'. There was even one at the corner of Geddis Ave and Chambers, the interesction Nikau and his mates would get out of Maraenui to go into town ''Maraenui – loving it'.
Then the Housing New Zealand office seemed to change. Someone put some pictures of local kids running around on the windows and weirdly there were also pictures of the faces of a couple of guys in suits and some drawings. The steel things in front of the doors were removed and a couple of weeks later it looked like they rebuilt the whole front of the building.
All good Nikau thought, but he had his eye on one of the signs as a target. One night he and his mate decided to create some of their own artwork. They walked done Bledisloe and pulled a spray can out – as Nikau was about to put his signature on the sign, a person from across the park, outside the Housing New Zealand office yelled out – "hey you, what are you doing?"
Nikau and his mate were about to run.
"Aye, you guys wanna earn some cash?  the guy bellows.
Nikau's mate yelled out "Whaatever man, what you know?"
"Get over here I have $50 bucks for you if you can pick up all the rubbish on Percy Spiller Ave" – the man said – it was the same man with his face was on the window but he wasn't wearing the flash suit.
And that was all it took.
Nikau quickly found himself in a local maintenance program with Spanner and Fixit ltd, where every weekend he could earn $50 just by picking up rubbish – soon that moved onto mowing the grass where the government had pulled down the houses and then onto fixing fences around town. Not only Nikau, most of his mates also got involved. Some pushed their luck a little too far and tried to not finish properly, but the guy from the office always came round to have a chat – Nikau remembered thinking that guy Bill from the office seemed alright; but really he was just checking up on them!
Spanner and Fixit then opened an office in one of the run down stores where they stored all their gear. Next door a tool shed was opened where anyone could borrow a lawnmower or some clippers and some of Nikau's cousins helped get involved in that.
Nikau remembered how if it wasn't for Bill catching them that night when they were about to tag the sign he may of never even passed school let alone become Area Manager of Housing Napier.
….The lift doors open, the receptionist greets Nikau, "good morning Mr Johnson, how are you this morning?"
"Yeah great" he replies. Nikau continues "Although looks like it may be a bit of a tough day. Those guys from Australia are coming to town with the Minister of Property Development  and want a tour around Maraenui, so we have to put on our best performance!"
 "Yes I have prepped the troops, Mr Johnson",  the receptionist, Sally goes on "Why do they want to see Maraenui, everything seems fine to me, not like we are doing anything much different to what they do in Taradale"
Nikau agrees "Yes I know, I think the Aussies have a few problems and want to change one of their towns back home and think we might have the answer, don't really know what I should show them – what have done recently besides the best street award?  I guess I could talk about the joint initiative that was started in 2015 where rates relief was granted to private owners who kept their properties to a high standard, but we finished that last year because everyone is doing that anyway now"
Sally quickly looks up Maraenui on Wikipedia to look for some ideas
2012
Maraenui is a suburb of the city of Napier, in the Hawke's Bay Region of the eastern North Island of New Zealand. It is a lower socio-economic neighborhood with a mix of owner occupied and state owned (Housing New Zealand) properties.
2024
Maraenui is a suburb of the city of Napier, in the Hawke's Bay Region of the eastern North Island of New Zealand. It is a medium socio-economic neighborhood with a mix of owner occupied, and rental housing. Maraenui undertook a positive identity and image transformation from 2013 to 2017 with initial  funding by a government, council and corporate sponsorship through a regeneration programme with extensive resident participation and on the ground management.  Maraenui was presented to the United Nations in 2023 as a case study by the University of California, Berkley Haas School of Business, socio-economic transformation project.
As Nikau walked to his desk Sally enquires
"Also Fa'alele wants to know if they will be attending tonight's residents meeting of the Maraenui 2035 business growth forum"
Andrew Crosby
September 2013
"You've got to think about big things while you're doing small things, so that all the small things go in the right direction."
 — Alvin Toffler
—————————————-
Cheers
Andrew Crosby
www.developmentprofit.com 
Products created for continuous improvement in real estate development. 
Learn about managing real estate development in House, Land, Love & Money and Turnaround Success.