In this blog series we look at technology in real estate development and construction. Today we interview Antonia and David the founders of an ambitious new start-up 'Acuite' – soon to be publicly launched.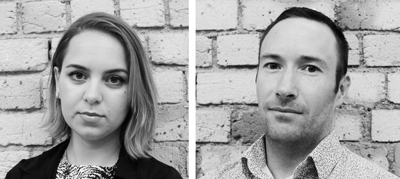 Antonia, how did you and David get started on the road to entrepreneurship?
Both David and I have always had the motivation to create something big, bigger than us, to add value to others, create a legacy and become successful. Since we completed our qualifications, we secured good jobs, built a house and started settling in…But the motivation was still itching, and we were not content. The hardest part was getting started. 
Our entire careers were built around the property and construction industry, an industry we are extremely passionate about. We were running multi-million dollar projects with extremely lean margin levels (5%) and significant risk profile. We weren't surprised to learn that on a global level 77% of executives experience under-performing projects, and that 50% of these projects experience cost over-runs of between 10 and 200%. The sad thing is, often for many construction companies a project that has made no margin is still considered as a good outcome.
We decided to do something about it, we dedicated our entire nights and weekends to develop a visual representation of a concept we had. We joined forces with The Icehouse (NZ' leading business incubation centre) and went through a comprehensive market validation phase. Once we started to see really strong traction from the market we decided to take the leap, re-mortgage our home, quit our day jobs and dedicate ourselves to this venture in full capacity.
Tell us about Acuite – what's your elevator pitch?
77% of executives in the construction industry are currently experiencing under performing projects. The problem? – Time delays, poor estimating practices, failed risk management, and poor performance by sub-contractors. The solution? Enter Acuite.
Acuite is a cloud based SaaS web application that provides real time visibility and analysis of critical performance metrics across projects.
This enables firms to better manage risk while maximising value & performance.
What sets us apart? – Our Industry expertise, market positioning, algorithms, intuitive design and product development in conjunction with three leading NZ organizations.
For our audience, mainly property development, consulting and construction professionals, what do you see as the three most important functions of your software?
We provide real time visibility across portfolios and into projects through collating & displaying real-time metrics & critical KPI data via user friendly drill down dashboards. Additionally, all team members can make decisions based on up-to-date and accurate information from every level of your operation.
Because critical metrics are available real time, we can cut the times currently spent of manualised reporting processes. This also provides one source of truth and a consistent view of performance for all members of the organization.   
In complementing a comprehensive risk management feature set, we provide a unique internal Benchmarking ability that means risks across the organization can be easily identified and dealt with, before it is too late.
I understand you have three of New Zealand's top mid tier contractors on board – can you tell me who your target market is and will New Zealand be enough?
We are fortunate to work with some of the most innovative, entrepreneurial and largest construction firms in NZ. These companies are paving the future for something global, they see our vision and recognize its value. They have been extremely supportive and are playing a significant part in the Acuite journey.
Our target market is mid-tier to large scale commercial construction firms, with an annual turnover of $50m to $300m. The market size in NZ is limited and our strategy from day one is to create a global success story. We are starting off with NZ and AU, followed by the US.
How did you find the recent Ice Angels investor pitch evening?  – I was there and it looked a daunting prospect, although your presentation was polished and you looked totally in control.
It was nerve-racking because we knew how significant the opportunity was, failing was not an option. It was an opportunity to showcase our vision and achievements to technology, business experts and high net worth individuals. Very similar to the Dragons Den, we had 8 minutes to pitch why Acuite was the best investment opportunity for them.  We practiced the pitch for three days pretty much full time, it was worth it – we attracted significant interest and currently going through the due diligence process.
Do you have any suggestions for those budding techpreneurs with ideas but not sure where to start?
Ok, so here are our practical tips; 
Define clearly what pain you are solving and what is your proposition
Undertake a market validation analysis – talk to your target market, ask all of them the same questions and as a result conclude what the market wants / needs are (you will be surprised because what you think the market want and need is most likely different to what you originally had in mind, that's good!)
If the market needs are severe and you conclude that there is an opportunity, take the next step – invest couple of thousands of dollars and create a visual prototype of your solution
Pre-sell your product to prospective customers (start with those you interviewed at the market validation phase).
If you followed 1 to 4 you should have some good traction, now you need to start building a minimum viable version of your product. You can either do this yourself, bring together people that can help, or raise some money to get started from family and friends. 
What have been your biggest obstacles so far?
When we first started the journey we had another co-founder, we were a solid team of three. Building a start-up is time consuming and not easy, unfortunately due to family commitments he had to step down. A third of our resource and funding had disappeared instantly.
There are constant obstacles, and you just have to be persistent and not give up. We keep saying to ourselves, if it was easy everyone would be doing it.
Who are your role models, those that inspire you to give up your day job and tackle such a project as Acuite. 
I love reading about NZ's global tech companies that started from nothing. Reading Derek Hendly's book 'Heart to Start' was a significant inspirational boost when we first started. 
Finally, tell me where you will be in 2025 – should I be looking at the digital billboards (whatever new technology they will be by then) in Times Square?
Yes, we aim to become a global leader in intelligent technology for the construction industry. By 2025, productivity in the construction sector would increase significantly, and Acuite would save construction firms across the globe billions of dollars on an annual basis.


Contact Antonia Speight +64 21 680 609  antonia@acuite.co.nz
Interviewed by Andrew.Crosby@aenspire.com
Andrew founded a start-up software company in 2000 "CollaborIT" specialising in online collaboration for construction and development projects. Since then he has taken an active interest in how to improve the intellectual mechanics and productivity in property development and construction. Andrew has been a sounding board and supporter of Acuite and the solutions it provides to industry wide under-performance since its inception.