PropTech – where does this all end up in years to come?

Well here's my version based on researching the progress of technology to date (318 footnote references) and where it might land in a generation or two.

I look at blockchain, smart legal contracts, asset tokenisation. Onsite, offsite and 3&4D printed construction. The evolution of retirement communities, retail, restaurants, supermarkets, home-technology, autonomous vehicles, sales and marketing, and property management. Robotics and swarm technology. Artificial intelligence, machine learning, computer vision, generative design, permitting and development financial analysis. Even ethics, waste management, biophilia and biogenetic architecture….and more.
All wrapped up in the life story of a real estate developer, being crushed with debt and his back against the wall vowing to create the most hi-tech and profitable project of all time..
Purchase Destiny from Amazon Here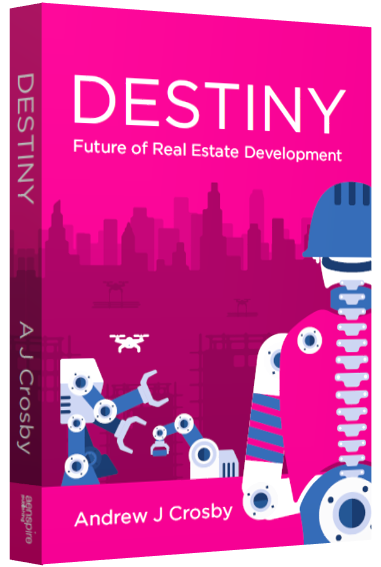 Credit to Creative Digital for the Cover Art. Click here to see what they can do for you.
Cover Blurb
Set in the latter half of the twenty-first century, told through the eyes of David – a Chicago real estate developer – and his international project team, this futuristic prose asks:
-How will artificial intelligence affect the role of architects, engineers and lawyers?
-Can blockchain change the very essence of property ownership?
-What settles the debate over autonomous transport?
-Where will we attain true building sustainability?
Grasp how work, living, dining, exercising, wellness, shopping and retiring will evolve. Discover how construction will embrace robotics, onsite manufacture and biogenetics.
Learn the impending implications for city authorities, appraisers, real estate agents, marketers and property managers.
"A thoroughly researched fable showcasing the history and predicting the advancement of built-form technology."


"Take yourself into the authors richly imagined future. It represents the global mega-trends everyone in the property business needs to prepare for."
This is real estate development's destiny!
Cheers
Andrew Crosby

Visit www.developmentprofit.com to see other publications and real estate development resources.